Order U Thrive before April 22, 2017, and take advantage of one of these exclusive, limited-time bonuses:
---
The Parent Toolkit
Are you a parent of a student who is ready to start college? Then the "Parent Toolkit" is perfect for you! The toolkit includes: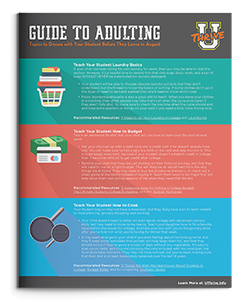 Guide to Adulting
One of the best things you can do to help your child succeed in the first year away from home is to make sure you've instilled the basic 'adulting' skills all young adults need.
---
Guide to Parent Blogs
Looking for support of parents having the same experience? We've pulled together the best blogs geared for parents of college students. There are tons of great resources from getting through the college admission process, to financing, to the first visit back home.

---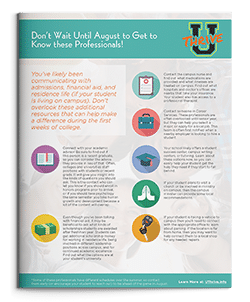 Professionals to Know About
You've likely been communicating with admissions, financial aid, and residence life (if your student is living on campus). We've pulled together a comprehensive guide of often overlooked professional additional resources that can help make a difference during the first weeks of college.
---
A one-hour Q&A with the authors, Dan and Alan
This is your chance to get advice and insight as to what you can do to help your child succeed. This live webinar is scheduled for May 3, 2017, at 7 p.m. EST with a replay available.

---
The Student Toolkit
Heading to college? Then this is the package for you!
---

Dormify Coupon Code
Get 20% off your purchase!
---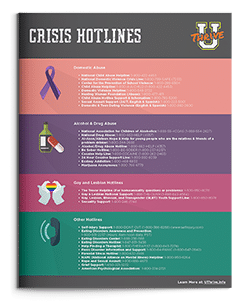 Crisis Hotline Resource List  
Knowing when to ask for help will help you succeed once you're on your own. We've pulled together a comprehensive list of free, anonymous and/or low-cost organizations and professionals that you can go to to ask for help.
---
Happiest Campus on Earth Spotify List
Fun, happy songs to boost your mood.
---
How to Claim Your Bonus Gifts in 3 Simple Steps
Purchase your copy of U Thrive (paperback version), through any of the retailers listed below and take a screenshot of your order confirmation or receipt. (Not sure how to take a screenshot? Click here.)
Return to this page, click the link below for the toolkit you would like and fill out the form, and upload the screenshot of your receipt as proof of purchase.
Check your inbox for your email with links to download each of your bonuses!